Holidays in Livorno, hotels, bed and breakfast, farmhouses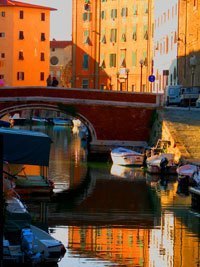 Livorno is the third largest city in Tuscany after Florence, Prato and the second largest port after Genoa in Italy. The sea life of the city has given rise to a famous local culinary specialties: dishes based on fish are one of the delicacies that visitors can enjoy visiting Livorno. Help Livorno offers tourists numerous tools to learn about this wonderful city Tuscany, with information on places to visit, the best facilities and best restaurants to enjoy a pleasant stay in harmony and relaxation.
If you have the opportunity to organize a vacation in Livorno, Elba or the Etruscan Coast consult our section on hotels, bed and breakfasts and hotels in the area.
You will find accommodation for pleasant stays in some of most beautiful places in Tuscany for all needs, tastes and prices.
If you want to make your stay even more interesting to be guided by Livorno tourist guide, which will put at your service all their knowledge and experience to discover the art of Livorno, but also to explore and admire the natural beauty of Tuscany parks, nature reserves, hills, valleys and much more.
For reservations in hotels, Bed and Breakfast, lodging and vacation lastminute recommend:
History of Livorno, information for tourists
Holidays in Livorno, territory and the Etruscan Coast
Holidays in the Tuscan Archipelago, hotels and bed and breakfast
The Port of Livorno
Fun in Livorno, events, cinemas and theaters
Hotels and B & Bs in Livorno and Elba
Livorno at the table, shopping, food and recipes of Livorno
The content of the page is automatically translated.
Rate: 0.0 | Comments (0) | Write Comment