Theater and musical performances at Livorno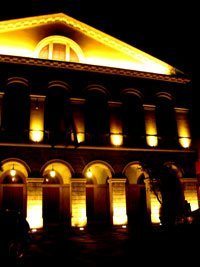 Arts center "The Skyscraper"
Via del Platano 6
Tel. 0586 896 059
Historic building of the Jesuit houses a small theater company's headquarters "The Skyscraper." It is also a school of acting and cinema.
New Theater of Comedy
Via GM Lands 3
Tel. 0586 404 021
Performances of companies beginners.
I Quattro Mori Theater
Via P. Tacca
Tel. 0586 896 440
Shows dialectal represented in vernacular Leghorn, colorful and fun.
Teatro Goldoni
Via C. Goldoni
Tel. 0586 204 290
The timetable suggests an interesting program of concerts, prose and poetry.
Teratro Cinema La Gran Guardia
Via Grande 121
Tel. 0586 883 006
Performances of the best Italian and foreign companies.