Farmhouses, campsites and youth hostels in Livorno
Tourists who want to stay in Livorno can choose hotel accommodation facilities such as holiday homes, cottages, hostels and camping sites for a holiday in complete harmony with nature and to live intensely the riches of the territory, particularly gastronomy of Livorno , according to the best Tuscan tradition.
Casale Campo di Carlo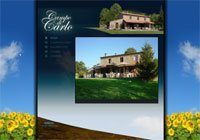 Campo di Carlo is an old farmhouse divided into 8 newly renovated rooms, very comfortable and custom fitted with a minibar, air conditioning and room service. The surrounding park and 'well-kept, with pool, bowling, cycling, table tennis, barbecue and games for children.
For those who want and 'always open and a large kitchen available for common use.
Campo di Carlo is the ideal place to spend a relaxing holiday and entertainment: located in a strategic point for trips to Volterra, San Gimignano, Florence, Pisa and Elba.
FIELD OF CHARLES
Via Campagna Nord, 62-57020 Sassetta - TUSCANY - ITALY
Tel 39 0565 794257 Fax 39 0565 705612 cell. 338 9272401
www.campodicarlo.it
Breakfast in Livorno
SWEET MEMORIES
Guadalajara Street 134
Tel 0586 854 908
www.agriturismo.regione.toscana.it
Bedrooms: 4
Cost: € 78 per double room with breakfast.
Located between the hills and the sea, has its own parking and private beach. On request you can have dinner with traditional dishes.
FIVE LECCI
Way Quercianella 168, loc. Montenero
Tel 0586 578 111
www.agriturismo.regione.toscana.it
Apartments: 7
Cost: € 103 per apartment
Situated in a panoramic position in the hills with beautiful views of the Mediterranean with the scenery of the islands and the coast of the Etruscans. You can go horseback riding and hiking.
Camping Livorno
HILL 1
Way Quercianella 269, loc. Montenero
Tel 0586 579 573
www.collina1.it
mail@collina1.it
MIRAMARE
220 Via del Litoral
Tel 0586 580 402
www.campingmiramare.com
It overlooks the Gulf at the beginning of the Romito cliff, surrounded by green hills of Livorno, where you can stroll and mountain biking. It has new bungalows and plots of the sea. Direct access to the beach.
Holiday homes in Livorno
BLUE VILLAGE
Via M. Puccini 231, loc. Quercianella
Tel 0586 492 271
www.villaggioazzurro.com
info@villaggioazzurro.com
15 facility between two and three, is surrounded by the tranquility of the private park full of olive trees, oaks and pines. It has barbecue and pergola, relaxation areas, children's playground, cycle track and soccer field, volleyball and table tennis. Access to the sea is facilitated by three steps and bathing establishments are available to tourists.
Hostels in Livorno
VILLA Morazzana
Way Collinet 68
Tel 0586 500 076
www.villamorazzana.it
Rooms: 5 multiple rooms, 8 family rooms
The hostel's service is spartan but comfortable and allows you to enjoy, with much money, a residence of great charm and elegance.
Hotels in Livorno, Bed and Breakfast